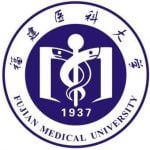 Website Fujian Medical University
Public University
English Teacher Recruitment
Fujian Medical University (FJMU) was founded in 1937. In 2003, FJMU was approved by Fujian Provincial People's Government as one of the key universities for priority development. Now, it consists of Shangjie campus and Taijiang campus. The University has a full-time enrollment of 12,000 undergraduates, and over 2,200 postgraduate and doctoral students. Now, FJMU's 477 professors and chief physicians, along with 682 associate professors and associate chief physicians, make part of its faculty members and medical personnel totaling up to 5,638, in which there are 528 master's and doctor's supervisors. Read More.
Job Description
The role of a Foreign English teacher is to help our students speak English and improve English practical skills. Those responsibilities include preparing lessons and lesson material, teaching young adult students, holding counseling sessions, assisting colleagues, maintaining records, writing progress reports, etc. You will have about 16 classes per week, each class for 40 minutes; there is no office hours required for this position.

Salary and Benefits
1. Monthly Salary: RMB 8,500-11,000 per month depending on your qualification; Bachelor's degree holder gets 8,500 per month; higher salary for higher degree holders.
2. 10,000RMB travel allowance, and 2,800RMB festival bonus per year
3. Round-trip international air tickets (no more than RMB 10,000).
4. On-campus housing
5. Contract for 10 months

Qualification
1, English Native speakers below 60 years old.
2, Holders of Bachelor's degree or higher
3, Either a minimum of 2 years full-time teaching experience or TEFL/CELTA/TESOL Certificate
4, If you are from a non-English speaking country, you must have a degree related to English Education from a native English-speaking country. You also need to have at least 2 years full-time teaching experience plus a TEFL/CELTA/TESOL Certificate
Location
1 Xuefu North Rd., Fuzhou, Fujian Province

About The City – Fuzhou
Fuzhou is the capital city of Fujian Province, located on China's southeastern coast. With a long tradition as a coastal port and shipbuilding center, Fuzhou is the major coastal city between Hong Kong and Shanghai. As the central city of a province with many ethnic and linguistic links to Taiwan, Fuzhou has benefited from cross-strait investment and is today a major commercial and manufacturing center.
Application
Fujian Medical University is partnering with the search firm ISAC Teach in China Program on this appointment. Applicants should provide a covering letter and an up-to-date CV.