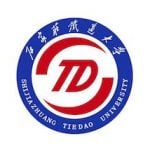 Website Shijiazhuang Tiedao University
Foreign Teacher Recruitment
Shijiazhuang Tiedao University (STDU, website) was established in 1950, the predecessor of Chinese People's Liberation Army Railway Engineering Institute. The university is located in Shijiazhuang city, the capital of Heibei province. It only takes one hour by high-speed train to travel from Shijiazhuang to Beijing. STDU is a technical university with the distinctive characteristic of applied engineering, and offers a wide range of disciplines covering science, management, economics, arts and social sciences. It has been listed as one of the national key universities since 1979 and now it is one of the top universities in Hebei Province. Read More.
Shijiazhuang Tiedao University (STDU) is currently recruiting 2 foreign teachers for Fall Term 2020. Teachers employed will work as members of the university team, teaching English language courses. The requirements are as follows:
Job Qualifications:
A. Native English language teachers.
B. Bachelor's degree required. Masters or doctorate preferred.
C. TEFL or TESOL (120 Hour) certificates preferred.
D. Age: 25-60 years old, with 2+ years' work experience in teaching or teaching certificate required.
Details in contract:
A. Salary: about 7000 RMB/month depending on experience and qualification.
B. Airfare allowance: 10,000 RMB/ year.
C. Free accommodation available.
D. Medical insurance for the foreign teachers covering the serious illness and accident.
E. Extra salary provided for extra hours training session.
Work Visa:
Shijiazhuang Tiedao University and ISAC will guide you through the Work Visa Application process
Foreign Faculty: (11 teachers)
Video: Life at STDU