Website isacprogram Qingdao Vocational and Technical College of Hotel Management
Start Sept. 2020
English Teacher Recruitment

Qingdao Vocational and Technical College of Hotel Management (QVTCHM), which was established with the approval of Shandong People's Government in 2002, is not only a government-owned, full-time, vocational higher education institution but also the first independent government-owned hotel management college in China. The college dates back to the year 1945 when private Qingdao Commercial Vocational School was founded and has more than 60 years' history of vocational education.
QVTCHM is located in Qingdao which is famous for its red-roofed buildings, green trees, clear water and blue sky in China and also well-known for Tsingtao Beer all over the world. The college currently consists of 10 departments.
According to the economic and social development needs, the college sets up more than 38 majors and forms the professional layout in the areas of inclusive business education, culinary art, hotel engineering, information technology, art and design and other related fields, with the tourism and hotel management specialty as the core.
There're 650 staffs with 220 vice-professors and professors. 90% of the lecturers have both teacher's and professional qualifications. And some teachers become experts of different associations. The following is the list of master teachers or experts in some fields.
QVTCHM has multimedia classroom, computer room, language lab, campus network, campus radio and television and other modern teaching facilities and advanced equipment. The college has a modernized library, which has millions of collection literature.
Currently, the college attracts around 14,000 students, including exchange students and international students from Korea and Taiwan province. QVTCHM offers scholarships and culture programs in various areas.The college has established an extensive cooperative relationship with the educational institutions and enterprises in Switzerland, USA, France, Germany, Singapore, Korea and Hong Kong, Macau, Taiwan province. The high level international communication pattern, which exports local high-quality educational resources and introduces foreign high-quality educational resources, has been built.
After years of development, Smile becomes our featured culture in our campus. Our motto is diligence, sincerity, smartness and elegance. We're carrying out the spirit of love, strength and responsibilities. Read More.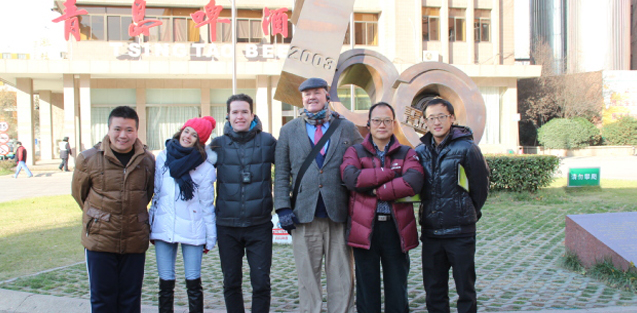 Job Position
1. Number of Positions: 1
2. College Name: Qingdao Vocational and Technical College of Hotel Management (Public College, founded in 1945)
3. City Location: Qingdao (you must know Tsingtao Beer, yes, Tsingtao is Qingdao, amazing coastal city, we are located in the world-famous Mountain Lao scenery area)
4. Contract length: Sep 2020 to July 2021
Job Requirements:
1. Education: Bachelor, Master or Doctor Degree
2. Relevant Teaching Experience: at least 2 years relevant experience (we need certificate by your former employer, which is required by the foreign expert bureau)
3. If you have 120 hours TESOL or TEFL Certificate, or you are graduated from education, languages, or teaching related majors, then teaching experience could be waived
4. Age requirements: below 60 years old
Salary and Benefits:
1. Annual Salary: about 100,000 RMB per year (7,500RMB+ per month for bachelor degree candidates, 8,000RMB+ for master degree candidates, and 10,000RMB bonus if you finish the one academic year contract)
2. Fully furnished, fully self-contained and free apartment inside campus (about 75 square meters, with two bedrooms and one living room, fridge, internet access, air conditioning, office, private apartment, kitchen, washing machine, private path room, full furniture, TV, etc.)
3. Full-paid Holidays (summer and winter holidays for about 3 months)
4. Working Z Visa, work permit in China, residence permit and free insurance provided
5. You can experience Chinese traditional culture and Chinese culinary arts here, we are professional in the field of cultural experience.
6. Light work load, relaxing work environment.
7. Number of Classes per Week: 20-22 classes per week, 45 minutes for each class.
8. Student's background: College students from 18-21 years old, ESL teaching and encourage them to open their mouth
Job Qualification
1. Native English speakers from the USA, UK, Australia, Canada, New Zealand, South Africa or Ireland
2. No more than 60 years old
3. Education: Bachelor's degree or higher
4. At least 2-year experiences of teaching or Corresponding Teaching Certificate
Accommodation
About The City – Qingdao
Qingdao is a city in eastern Shandong Province on the east coast of China. It is the economic center of Shandong Province, a coastal important central city of China, a coastal city for resort and tourism, an international port city. Its total number of permanent residents was 9 million. The city is known as the Sailing City of China, the Best Sailing City of Asia, the World Beer City. It also won the reputations of the European-style city as "the Oriental Swiss" and "the City of Brands of China".
Qingdao is an international marine scientific research and education center where reside 26 universities such as Shandong University (Qingdao Campus), Ocean University of China, China University of Petroleum. There are diversified exotic-style architectures in Qingdao, so it is called "the Universal Exposition of Architectures". The architectural complex in Eight Great Passes was awarded the title of "the Most Beautiful Urban Area of China".
Arrival Date:
You are expected to arrive at our university before Aug. 31st, 2020 for the Fall semester, 2020. If you are unable to arrive in China by Aug, you will be having online classes before the border opens to foreigners.
Work Visa
ISAC and QVTCHM will assist you through the Work Visa Application process
Recent Job List