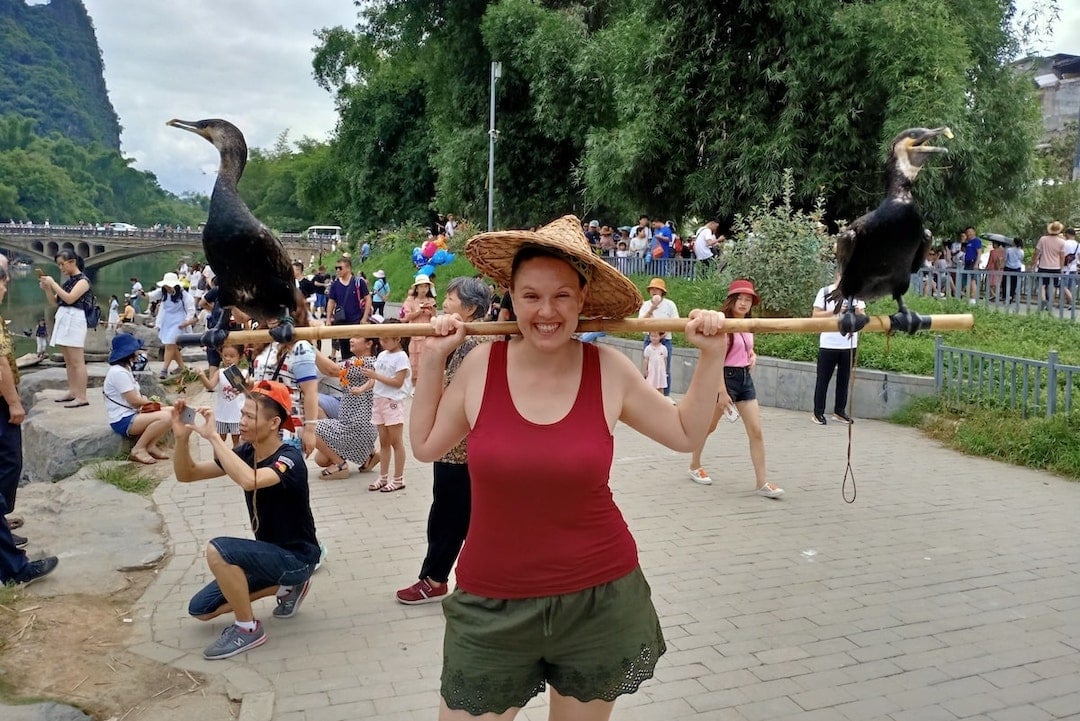 Teaching English in Guilin keywords: fulfilling, lovely students, safe, scenic
by Anastasia Fox, English Lecturer, Guilin University of Technology
Since early childhood I have been fascinated by South East Asia and the Far East, and wanted to live there, specifically in China. However, living so far away in South Africa, it seemed like an unrealistic dream.
Needless to say, my spouse and I eventually made the plunge to move to Asia. We had so many options to choose from that at first it seemed daunting to decide which country and educational institution would be best for us.?
The recruiting firm
Overwhelmed by choices and recruiters, we didn't know which choice would be right for us, as I had offers from different countries in South East Asia, South Korea and Japan. Then we came upon ISAC's website and immediately linked up with a friendly and knowledgeable recruiter who came to our rescue.
Once I had made contact with a recruiter at ISAC I realized that her main priority was to see that clients were placed at educational institutions that would make them happiest. She did not just give me a list of work opportunities, but instead took the time to find out what I was looking for in a teaching position in China. That is one of the main reasons I decided to go forward with ISAC above any other recruiting firm.
I let the recruiter from ISAC know exactly what I was looking for: a University post in a beautiful location in a tranquil, slow-paced city. Not only did they find me exactly what I was looking for, but they had made the whole process of applying for the position at the Guilin University of Technology (GUT) so easy.
ISAC always corresponded regularly and clearly as to what documentation we would need to prepare, the information that we would need to send to the University and what each step of the procedure of coming to work in China (and specifically in Guilin) would entail. I was informed on a continuous basis how far the process of getting to China was and what needed to be done next.
Also, ISAC were always happy to answer any and all questions I had, no matter how complicated or trivial. The response from them was always courteous and informative. All conversations and communications between us took place in English so there was never a need for a translator or any miscommunications due to a language barrier.
After I was introduced to my liaison at the University, my ISAC recruiter still kept in touch with me, making sure that the arrangements between myself and the University were going smoothly and that I was still happy with the placement.
Even after we had already moved to China and was well established in my position as Oral English Teacher, my recruiter at ISAC would still contact me on a regular basis to make sure that we were happy and settled.
The university and students
Happy and settled my spouse and I definitely are! The Guilin University of Technology has not one, but two beautiful university campuses.
The one that we live on is located very close to downtown Guilin and offers a wide variety of food and memories to be made (such as hiking through Seven Star Park, taking a boat ride down the Li River or going for a day trip to the picturesque Yangshuo, to name but a few). A scenic bus ride connects the two campuses, making for a lovely traveling experience as all along the way you are surrounded by the famous hills of Guilin.
Once you get to the campus grounds you are greeted by friendly students who are eager to learn. The students I teach are always excited about class and how they can improve their English through practice. It's their enthusiasm that makes the vocation of teaching so fulfilling and after each class the students make me feel appreciated and valued.
My Colleagues
My work colleagues are another asset that I have discovered working at GUT. They have all been very kind and have helped me to settle into not only University life, but also enjoying the best Guilin has to offer. Living on campus among my students, my colleagues and their families has made me
feel very comforted (and has helped reduce homesickness) and I feel that I am part of the community.
I have also been entrusted to design courses tailored to suit each group of students (whether they are sophomores, freshmen, etc.) to meet their individual needs and level of spoken English. This has made planning and creating lesson plans flexible (as I can adjust a class as I see necessary) and has given me the opportunity to constantly improve my teaching skills as I am always challenged to give the students the best class I possibly can.
Being given the freedom to create my own curriculum for the students suits my independent personality perfectly as years of teaching according to a strict curriculum back home in South Africa without being able to amend it according to my students' needs was disheartening.
Working at GUT has been and continues to be an absolute pleasure. This is also due to the fact that the management team at GUT are really supportive and have gone beyond the call of duty to make sure that we are happy. Our apartment is checked regularly to make sure that everything is in perfect working order. The management team also organizes trips in and around Guilin for the foreign staff to historical villages and beautiful locations.
Everyone at the office that co-ordinates with the foreign teaching staff speak fluent English, so language is never a barrier to interacting with anyone and there are no miscommunications. This alleviates a lot of the stress that is part and parcel of living in a foreign country that you don't speak the language of.
Teaching English in Guilin – Safe and convenient
Living and working in China has afforded us the opportunity that we had previously lacked in my home country: the chance to afford to travel in complete safety.
China is one of the safest countries in the world, with Guilin being one of the safest cities. Added to that, China also has one of the best transport systems in the world. Whether it be clean and regular buses that take you around the city or taxis that are always available, it is easy to get from place to place without having to own your own vehicle.
The best way to travel, however, is the high-speed rail which is super convenient, fast and comfortable. Living in Guilin means that the beach is only four hours away on the high speed train.
Despite the fact that Guilin is a small, tourist city, there are large shopping centres, a Walmart and Western restaurants scattered between historic architecture and beautiful scenery. This has made the decision to stay in China, and Guilin specifically, for a long time, an easy choice.

Related Articles: