Updated 2020-03-22
---
As no new local virus infections was reported for 3 straight days, life is gradually returning to normal in mainland China. The total number of confirmed cases also continues to dwindle. Many provinces have aim the starting date for the spring semester in April.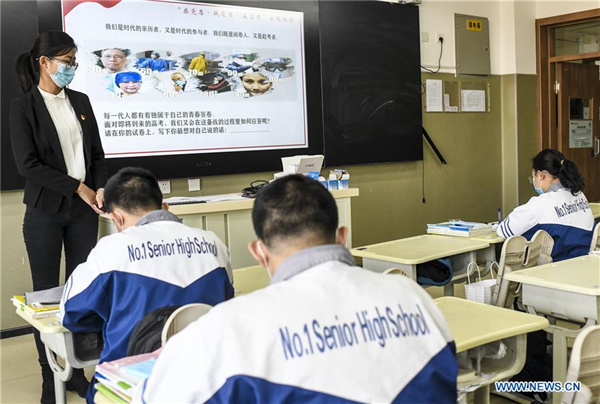 (Mar. 20th, 2020)
China said last week that the peak of the current COVID-19 outbreak at home is over as new cases keep declining and the overall epidemic situation remains at a low level across the country. Life and production are picking up pace in returning to normal.
As the epidemic's risks dim in other parts of China, more schools will resume classes. Southwest China's Guizhou Province also resumed classes for graduating students Monday, while some schools in northwest China's Qinghai reopened even earlier.
The majority of the country's local governments haven't decided the date for school resumption, which would be carried out based on local epidemic control developments and in a phased manner. School reopening for graduating students in junior and senior high schools will be prioritized, while that for college students might be considered at a later time due to cross-region transmission concerns. (China Daily)
(Feb. 21st, 2020) As China takes steps to contain coronavirus, many cities and provinces have reported zero increases on new confirmed cases. Although cautions are still required to fully control the spread of coronavirus, ISAC has started taking applications and conducting interviews for Spring 2020 semester and Fall 20 semester intake. Please follow Job Board for updated job vacancies.
(Feb. 18th, 2020) As the situation develops, many universities have set the first day of school in March. The COVID-19 virus is under control in most provinces except Hubei. Please again stay in touch with the contact person from your school. For Hubei province where Wuhan is the capital city under lockdown, the first day of school is still undecided. Again, please stay tuned on this page for any further updates.
(Jan. 31st, 2020) Most universities/colleges/schools have not set a starting date as the situation is still evolving. We are confident the situation is under control but still needs to clear up to be sure. This notice will be updated as more information becomes available in the following days. Please stay tuned on this page for any updates.
(Jan. 30th, 2020) For all teachers set to start the 2020 Spring Semester, the first day of school has been postponed nation-wide due to the Novel Coronavirus. If you have purchased flight ticket to China, you are advised to cancel or change to a later date. For more information, please connect with the staff from your placement university/college/school.