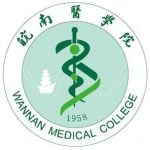 Website isacprogram Wannan Medical College
English Teacher Recruitment
Wannan Medical College, a general institute of higher learning, is situated in Wuhu, a city beside the Yangtze River, which has been renowned for its great harbor and beautiful sceneries. Read More.
Job Description
The role of a Foreign English teacher is to help our students speak English and improve English practical skills. Those responsibilities include preparing lessons and lesson material, teaching young adult students, holding counseling sessions, assisting colleagues, maintaining records, writing progress reports, etc. You will have 16 classes per week, there is no office hours required for this position.
Salary and Benefits
1. 10,000 – 12,000 RMB/month depending on qualification
2. 12,000 RMB flight reimbursement and 2,200 RMB travel allowance for one academic year
3. Paid summer and winter vacations
4. Free, private accommodation (including a kitchen) provided
Qualifications
1. Native English speakers, bachelor's degree or above
2. Under 60 years old, in good health
3. Have at least 2 years of English teaching experience
Accommodation
A private apartment is provided. The apartment includes two bedrooms, a living room, a kitchen and a bathroom. In the kitchen there are fridge, microwave and other utilities for you to live comfortably.
Foreign Teachers Story
Daniel – Wannan Medical College
About The City – Wuhu
Wuhu is one of the key cities under the development plan of the Yangtze River Delta urban agglomeration in China. It is also a hub in the Industrial Transfer Demonstration Zone of the Wanjiang City Belt. The economic aggregate of Wuhu ranks second in Anhui Province.
Wuhu is also a picturesque and charming garden city with wide coverage of green belt, sound water ecology and countless imaginative sculptures. No wonder Wuhu has been awarded "China Habitat Environment Example Prize" four times, and selected as one of the 40 most successful cities on the occasion of the 40th anniversary of China' reform and opening up, not to mention being screened as one of the top 100 cities in digital economy.
Travelling to Wuhu is convenient. It takes 40 minutes from Nanjing to Wuhu, and 2 hours 30 mins from Shanghai to Wuhu by high speed rail.