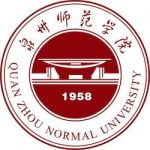 Introduction to Quanzhou Normal University
Quanzhou Normal University is located in Quanzhou, one of the central cities in Fujian Province. As one of the first batch of national historical and cultural cities, Quanzhou is also known as the East Asian Cultural City and the starting point of the ancient Maritime Silk Road. Its GDP ranks first in Fujian Province for 20 consecutive years.
At present, the university consists of 17 colleges, 58 full-time undergraduate majors. There are about 18,000 full-time undergraduates and postgraduates. QNU owns more than 1,400 faculties and staffs, among whom over 1,100 are professional teachers. Read More.
Japanese Teacher Recruitment
I. Courses
1. Japanese speaking and listening
2. Japanese literature and writing
3. Business Japanese
II. Teaching Staff Criteria
1. Qualification Requirements: Japanese native speaker, you should have at least a Master's degree and minimum two years of professional teaching experience
2. Workload: At least 16 Class Periods (45 minutes per period) per week, and each extra class period will be paid.
3. Excellent physical condition
4. Professional teaching experience in university is preferred.
III. Candidates should provide the following materials:
1. Detailed CV
2. Copy of passport photo page
3. Copy of the degree certificate
4. Authentication of certificates by Chinese Embassy
5. Recommendation Letter or Employment Certificate from the previous employers for the last teaching positions, to confirm the years of teaching experience.
IV. Application Deadline:
Faculty recruitment will continue until the positions are filled.
V. What we offer:
1. Salary: RMB 5,000-8,000 per month Depending on your qualification and teaching experience, calculated over 10 months per year; if you work more hours, the University pays overtime); additional allowance of RMB 2200 per year (one-year contract) for holiday travel; Free accident insurance.
2. Work Visa: We will apply for the working visa for every teacher if you provide us with the required documents.
3. Flight reimbursement: we will pay one round trip airline tickets at the end of the contract year; Picking up from the airport within the province.
4. Staff housing: Free private apartment/flat with necessary facilities.
Location
Quanzhou Normal University, Quanzhou City, Fujian Province, China
About The City – Quanzhou, Fujian
Quanzhou is a prefectural-level city in Fujian Province on the southeast coast of China, facing Taiwan across the Strait. It is Fujian's largest metropolitan region, with a population of more than 8 million.