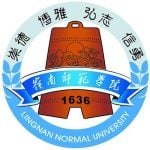 Introduction to Lingnan Normal University
Lingnan Normal University (LNU, 岭南师范学院) formerly Zhanjiang Normal University is an institution of higher learning in the Chikan District of Zhanjiang City, Guangdong Province, China. Read More
English Teacher Recruitment
The role of a Foreign English lecturer is to help our students speak English and improve English practical skills. Those responsibilities include preparing lessons and lesson material, teaching young adult students, holding counseling sessions, assisting colleagues, maintaining records, writing progress reports, etc. You will have 18 classes per week, each class for 45 minutes; there is no office hours required for this position.

Requirement:
1. Bachelor or above degree
2. Native English Speakers
3. Age under 60 years old
Remuneration Package:
1. Monthly salary: Bachelor: RMB 8,300/month, Master: RMB 9,000/month, PhD: 10200/month
2. Free apartment
3. About 10,000 transportation subsidies and 2,200 tourism subsidies each year
4. Insurance provided for free
Location
29 Cunjin Road, Zhanjiang, Guangdong Province
About The City – Zhanjiang
Zhanjiang city is located in the southernmost part of the Chinese mainland and southwest of Guangdong province, covering the northern part of Leizhou Peninsula. With a population of 8,042,300, Zhanjiang possesses one State-approved economic and technological development zone and six province-approved economic development zones, an all-around opening-up pattern has gradually taken shape. With a blue sea, beautiful beaches and coconut trees, Zhanjiang has rich tourism resources. The city has 12 State-level A-class scenic spots. Zhanjiang is the only ecological gulf city in China with 104 islands.
So far, there are seven colleges and universities in Zhanjiang, second only to Guangzhou, capital city of Guangdong province. It also has 75 secondary vocational schools, 39,000 professionals and technical personnel, three key laboratories, six engineering research centers, 18 research institutes, and 47 technology development institutions affiliated to enterprises. Together, they have contributed a lot to Zhanjiang's fast growth.