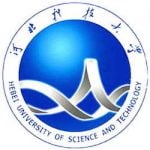 Website Hebei University of Science and Technology
Foreign Teacher Recruitment
Hebei University of Science and Technology (HEBUST) was founded in 1996 by incorporating former Hebei Institute of Chemical Technology and Light Industry, Hebei Institute of Mechano-Electric Engineering and Hebei Textile Staff & Workers University. It is one of the key multi discipline universities of Hebei and the demonstration school of College English Teaching Reform of the Ministry of Education. Hebei University of Science and Technology covers an area of 1,653,000 square meters, of which 853,000 sq.meters are the building section with graceful and comfortable campus surroundings, advanced teaching equipment and perfect teaching effect.
Hebei University of Science and Technology is a provincial whole with the 9 disciplines — engineering, sciences, arts, economics, management, law, medicine education and fine art. At present, the university has 18 colleges, 63 specialties for undergraduates and 93 disciplines with the right to award MA (16 authorized fields for Engineer Master). The university now has 2461 staff members, including 669 professors and associate professors, 16 doctoral advisers and 380 MA tutors. And it has a total enrollment of 16,427 full-time undergraduates and associate-degree students, postgraduates and foreign students, and 9,235 students for continuing education. The university was awarded excellent marks in the Undergraduate Teaching Quality Assessment of the Ministry of Education for 2007. Under the flagship of -"Focus on man's all-around development and serve local economy and social progress", the whole university has been upholding the spirit of "Enterprise, Cooperation and Devotion" to strive to be a first-class local university.
The university has been promoting opening and the academic exchanges with the outside world and has established cooperation with 65 universities and scientific research organizations, such as: U.S.A., UK, Canada, Germany, Japan, South Korea, Australia, Sweden, New Zealand, Holland, Singapore etc. The university has developed cooperation in such fields as: credit mutually admitted, students exchange cultivation, teachers exchange program, cooperation in scientific research and academic exchange, etc.
Hebei University of Science and Technology takes on the Chinese Training Course for foreign officers and students. It has accepted students who come from South Korea, Japan, Canada, Britain, the US, France, Germany, Greece, Cameroon, Ghana, and some other countries to study Chinese and relevant majors. The teaching of Chinese as a foreign language in the university is very normative: reasonable curriculum, flexible teaching methods, and the Colorful extracurricular activities, which is very popular with foreign students. In The Third Chinese Skills Contest for Foreign Teachers and Students in Hebei province, the student Patrick from Cameroon achieved first prize in speech and second prize in performance.
The university is located in Shijiazhuang, capital of Hebei province, which is the center of politics, economy, technology, finance, culture and information in Hebei province. Shijiazhuang is the transportation hub of Chinese rail-way and superhighway only 280KM south to Beijing, the capital city of P.R.C., so the transportation is very convenient. There are many humanity landscapes and natural sceneries around the city, and Chinese mandarin is the normal communication language in the city. With the excellent language learning environment of normal Chinese mandarin, the comfortable study environment, the outstanding staffs and the normative management system, the Chinese and relevant majors' study can be guaranteed. Read More.
Job Description
The role of a Foreign English teacher is to help our students speak English and improve English practical skills. Those responsibilities include preparing lessons and lesson material, teaching young adult students, holding counseling sessions, assisting colleagues, maintaining records, writing progress reports, etc. You will have 14 classes per week, each class for 45 minutes; there is no office hours required for this position.
1. Job Title: Oral English teacher
2. Average Class Size: 25
3. Class hours per week: Less than 14 teaching hours one week, about 16 teaching weeks each semester, 45 minutes each teaching hour.
4. Monthly Salary: 9, 000 CNY
5. Other benefits: Pick up at airport, reimbursement one round way air ticket. One year's medical comprehensive insurance.
6. Contract period and dates: 6 months, or 12 months
7. Number of foreign English teachers on average: 18
8. Accommodation: Two-bedroom apartment, one living room, one kitchen, and one washroom. About 85 square meters in total including Washing machine, Internet connection, Television, Hot water supply, Winter heating, Air conditioning, Telephone, Microwave, Refrigerator.
Job Requirements
1. Native Speaker with Bachelor's degree (or above).
2. The highest degree certification that the applicant has achieved must be authenticated by the China's embassy or consulate in the given country.
3. No criminal background (An official verification document issued by your local authority is required.), which must be authenticated by the China's embassy or consulate in the given country as well.
4. Teacher Certification should be authenticated by the China's embassy or consulate in the given country.
5. Being physical and psychological healthy
6. Native speakers. For those who have Education-related or Language -related Bachelor's degree (or above), no teaching experience is required; for certified teachers, or TEFL holders whose Bachelor's degree (or above) is not the Education-related or Language-related major degree, no teaching experience is required as well. If not, the applicant should have at least 2 years teaching experience, and provide the teaching-related experience certificate.
Address
No. 26 Yuxiang Street, Shijiangzhuang, Hebei Province
Accommodation

Foreign Faculty Size: 18

About The City – Shijiazhuang
Shijiazhuang is the capital and largest city of North China's Hebei Province. It is about 266 kilometers southwest of Beijing which takes 90 minutes from there by high speed rail. Shijiazhuang is the main economic center of Hebei and a relatively important city in China. It is the largest pharmaceutical base in China and is as well an important center in the textile, IT, manufacturing and chemical industries. It was also listed as one of the top 15 economic powers in China. Shijiazhuang has a population of 2.19 million in the city proper, with a further 7.4 million people living in its 20 affiliated counties. It's a modern city that's in the process of building many new apartment buildings, shopping malls and is renewing its image.
Work Visa
HEBUST and ISAC will guide you through the Work Visa Application process
Recent Job List