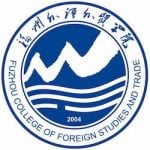 Website Fuzhou University of International Studies and Trade
Private University
Foreign English Teacher Recruitment
Fuzhou University of International Studies and Trade is (website) a full-time undergraduate university approved by the Ministry of Education. It is the sponsor unit and vice-chairman unit of non-profit private universities, standing vice chairman unit of Higher Education Committee of China Association for Non-Government Education, and a master's degree joint training unit. The school was founded in 2004 as Fuzhou College of Foreign Studies and Trade, and approved by the Ministry of Education in 2011 to be a regular full-time undergraduate university. In 2018, it passed the teaching quality evaluation on full-time undergraduate universities by Ministry of Education. The Monitoring Report on the Development Potential of Colleges and Universities in Fujian Province in 2018 which was released by Fujian Provincial Education Evaluation and Research Center, points out that the development potential of our school in 2017 ranked first among private undergraduate colleges and universities in Fujian Province and some of its aspects, such as resources integration, personnel training, scientific research, social services, comprehensive reputation and others ranked first among private universities.
Situated in Changle District which is known as a coastal birthplace for famous people and literature, a gateway to Fujian Province's capital city Fuzhou, the university covers an area of about 1300 mu, including about370,000square meters for buildings. It has teaching and scientific research instruments worth about RMB 110 million yuan, a total library collection of around 3 million printed books and electronic documents, more than 100 laboratories and 200 training bases.
The university has established a pattern of coordinated development in literature, economics, management, arts, engineering and teaching, and it has two provincial key specialties: Foreign Language and Literature and Business Administration. At present, it has7 secondary teaching units, including School of Foreign Languages, School of Finance and Economics, School of Economic Management, School of Science and Technology, School of Art and Design, Public Teaching Department and School of Marxism, as well as School of Innovation and Entrepreneurship. Currently, it has more than 16,700 full-time undergraduates. Read More
English Lecturer Tasks:
1. No less than 256 teaching periods per semester, with each period lasting for 45 minutes.
2. 2 teaching periods' English corner per week.
3. Contract period: in accordance with the actual commencement day. And the contract term lasts for 1 year.
Job Qualifications for Foreign English Teachers:
1. At least Bachelor's degree. Master's degree strongly preferred.
2. Education major is preferred.
3. University's teaching experience is preferred.
4. Have a TESOL or TEFL or CELTA.
5. At least 25 years old and at most 55 years old.
6. Can respect and observe Chinese laws and regulations.
7. Good Personality.
Remuneration and Benefits:
1. Annual Salary (before tax): RMB 110,000 (BA degree), 130,000 (MA degree) over 10 months.
2. Meals: free meals at the teachers' canteen.
3. Apartment: free private apartment with furniture, TV, air-conditioning in the bedroom, telephone, bathroom with heater, washing machine and refrigerator in the kitchen etc., with free electricity (200 KWH per month), water (8 tons per month) and Internet access.
4. Airfare: reimbursement of international one-way economic-class ticket upon the contract fulfillment up to 4,000 RMB.
5. Holiday: full paid 11 days Chinese public holidays and festival bonus on some important traditional festivals.
6. Insurance: health and accident insurance.
Campus Life @ Fuzhou University of International Studies and Trade
Location: 28 Yuhuan Rd., Fuzhou, Fujian Province
About The City – Fuzhou
Fuzhou is the capital city of Fujian Province, located on China's southeastern coast. With a long tradition as a coastal port and shipbuilding center, Fuzhou is the major coastal city between Hong Kong and Shanghai. As the central city of a province with many ethnic and linguistic links to Taiwan, Fuzhou has benefited from cross-strait investment and is today a major commercial and manufacturing center.