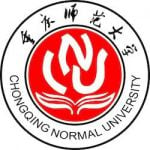 Website Chongqing Normal University
Public University
Introduction to Chongqing Normal University
Chongqing Normal University (CNU, 重庆师范大学), founded in 1954, is a full-time comprehensive institution of higher education under the leadership of Chongqing Municipal Government of P. R. China. CNU covers over 190 hectares (2800 mu) and is located in Shapingba District, the cultural and educational district of Chongqing. CNU is a higher education institution authorized to award Master's and Bachelor's degree with the approval of the Degree Awarding commission of the State Council, P. R. China. Currently, there are 17 colleges, 72 bachelor's degree programs, 24 first-level discipline of authorized master's degree programs, 14 professional authorized master degree programs, authorized secondary vocational master's degree, authorized advanced teachers professional master degree of literature, science, economics, management, art, physical education, etc., forming an educational system which is able to train postgraduates, undergraduates, associates and overseas students. And Chongqing Normal University was granted doctor degree institute by Chinese education government in 2018. Currently, there are over 25,000 full time students and over 2000 teachers including more than 1000 professors and associate doctors.
Job Description:
The role of a Foreign English teacher is to help our students speak English and improve English practical skills. Those responsibilities include preparing lessons and lesson material, teaching young adult students, holding counseling sessions, assisting colleagues, maintaining records, writing progress reports, etc. You will have about 16-22 classes per week, each class for 45-50 minutes; there is no office hours required for this position.
Requirement:
1. Native English speaker
2. Age under 60 according to the Chinese Work Visa Policy (Category B)
3. Have a degree of bachelor's degree
4. Have at least two years of English teaching experience or have a TEFL/TESOL/CELTA Certificate
Salary Package:
1. Salary: RMB 8,000 – RMB 10,000/month, paid summer vacation. Contract is renewable based on teacher's performance.
2. RMB 5,000 Flight allowance after completion of one year contract
3. On campus accommodation provided
4. Health insurance provided
Location: 12 Tianchen Rd., Shapingba District, Chongqing
About The City – Chongqing
Chongqing is one of four municipalities directly under the central government. Located at the confluence of the Yangtze and Jialing Rivers, it is also an industrial city with an active port. Chongqing has lots of picturesque scenery since there are so many mountains. With the improved economy, and so many scenic spots, Chongqing has become an important tourist destination.