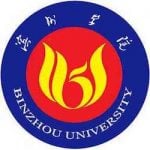 French Teacher Recruitment

Binzhou University (BZU) is a comprehensive public university affiliated to Shandong Government. It is located in a modern city with ecological landscape— Binzhou, which is the birthplace of Sun Tzu (the well-known Chinese ancient military strategist in the 6th Century B.C.) near the Coast of Bohai Sea and in the hinterland of Yellow River Delta. Read More.
Description du poste
1) Enseignement de cours de francais à des étudiants de premier cycle principalement francophones et à l'écoute de francais
2) Poste d'enseignement à temps plein, 14 à 20 heures par semaine, sans heures de bureau.
3) Taille de la classe: moins de 60 étudiants; age de l'élève: 18-24 ans;
Exigence de travail
1) Les francophones de moins de 60 ans.
2) Titulaires d'un baccalauréat ou supérieur
3) Satisfaire à l'obligation de visa par le gouvernement chinois
Avantages de l'emploi
1) Salaire mensuel de 6 000 à 7 000 RMB / mois pendant 10 mois, 320 RMB / mois pour les services publics
2) Hébergement: appartement meublé est fourni gratuitement
3) Congés d'hiver payés: 2.200 RMB / an d'indemnité de déplacement
4) Soins médicaux: assurance maladie
5) Billet d'avion aller-retour fourni (après un contrat d'un an).
Job Description (English)
1)Teaching French courses to undergraduate students mainly French speaking and French listening
2)Full-time Teaching position, 14-20 teaching hours per week. No office hours.
3)Class size: less than 60 students; student age: 18-22 years old;
Job Requirement
1) French Native speakers below 60 years old.
2) Holders of Bachelor's degree or higher
3) Meet the visa requirement by the Chinese government
Benefits of Employment
1)Monthly Salary 6,000-7,000 RMB/month for 10 months; 320 RMB/month for utilities
2)Accommodation: furnished apartment is provided for free
3)Paid winter vacation. RMB 2,200/year for travel allowance
4)Medical Care: health insurance
5)Round trip flight ticket provided (after one-year contract).